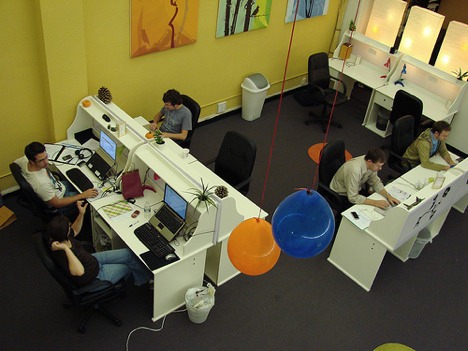 While being self employed offers some serious perks in terms of increased freedom and flexibility, working from home just isn't too glamorous once you've been at it for a while. It's hard to see yourself as a titan of industry when you're working in your PJs, and there's only so many hours of the day that you can spend haunting the local coffee house.
With well over 20% of all workers telecommuting from home according to a 2011 Bureau of Labor and Statistics study, more and more of us are looking for ways to stay connected while working solo. That's where coworking comes in. Coworking is all about connecting independent professionals with one another in a dynamic environment that fosters both creativity and innovation, as well as a healthy boost in productivity.
In a nutshell, a typical coworking space consists of open and closed work spaces and conference rooms that are available to professionals on sliding pricing scale. Useful office equipment like faxes and copiers are openly available, and there is usually a shared break area featuring a fridge, coffee maker and the like. Work spaces are typically available by the month, week, day and hour.
The types people attracted to coworking tend to be independently minded professionals with a strong sense of entrepreneurship. Visit a coworking space near you, and you'll likely meet designers, marketing types, entrepreneurs in green tech and similar interesting pros.
It's a wide swath, however, and you're likely to find yourself at home regardless of your profession once if you can find a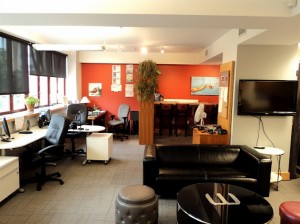 coworking opportunity that clicks. When I first looked into coworking spaces in my area, Asheville, NC, the first place I visited didn't look like much more than someone's flat with a handful of desks set up and some artsy types working on different projects. The second spot was a bit more like it in terms of setting but was a bit too stuffy for my tastes. The moment I looked into Mojo's, however, I knew I'd found the perfect spot. With its sleek interior and eclectic collection of engaging entrepreneurs working all kinds of crazy stuff, it was the perfect remedy for nagging case of home office cabin fever.
The best thing about coworking is that you're immediately surrounded by people who have already sorted out the initial growing pains of being self-employed and are simply tired of working alone from a home office. These are people who know what they're doing, love what they do and are looking to connect with like-minded people to figure out ways of taking their projects to the next level. If that sounds better than spinning your wheels at home working your professional network through Facebook and Skype, coworking just might be for you too.
[hr]
Find this post interesting or helpful? Click here to learn what kind of benefits we offer our members. Basic membership is totally free.