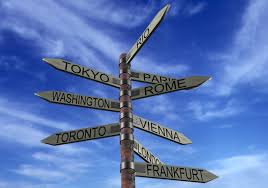 For many professionals working away from home can have a negative effect on their personal lives leaving them feeling constantly uprooted from their home and those around them.
While working away from home frequently can be difficult for you and those you are close to but it is possible to make it work for you rather than work against you.
Include Your Loved Ones
Where ever possible include those close to you in your trips abroad or away. When in a relationship with someone who constantly works away from home it can feel as if they are living a double life and you're only part of one side.
Make sure you communicate about these trips; fill those close to you in on the details so they have a good understanding of where you will be and what you'll be doing. Occasionally it may be possible for your family to come too and stay close by. They can have a little holiday and feel as if they are included in your trip while your trip will be made that little bit easier having people you love close by.
Pack Home Comforts
Packing up and jetting off on a regular basis may sound to some like a luxury but actually when you work abroad frequently it can become tiresome and a little depressing.
The best way to get through your trips away is to pack things that remind you of your home life and help you keep going knowing that you will be back home soon enough. Pack photos, your favourite blanket to cosy up under, your child's favourite toy, anything that reminds you of what you have at home and what you will be returning to. It's the little things that keep you going.
When packing such precious belongings make sure you have sturdy luggage that will ensure its contents are safe during transit. Leather luggage is well worth investing in if you travel regularly as it's sturdy and will last a life time.
Take Advantage Of Technology
One of the most difficult things about being away from home is missing those you are close to. If you work abroad you will know all too well about the difficulties of communicating with your loved ones back home. In some cases you won't be able to get any signal at all and in others phoning home costs an arm and a leg. Make use of the technologies available to you to keep in touch with friends and family.
Try using Skype for free video calls and Whatsapp messenger for instant messaging over the internet using your phone. Make use of your camera on your phone too and take lots of photos while away to show your family when you return so they feel as if they have been part of your trip. You can also take photos on your phone while at home to take away with you and look at when you feel home sick.
Unfortunately for some of us working away from home is a given with our jobs whether we like it or not. Make it bearable by following these tips and making working away from home work for you.
Eilidh MacRae works for The Leather Briefcase Company who provide leather luggage for the professional working away.