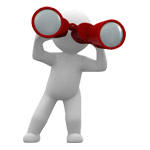 If you are tired of the hassles of working for someone else and managing employees, the life of a solopreneur might be right for you. This type of professional is a business owner who typically works alone, either from home or from a brick-and-mortar office. Solopreneurs handle all aspects of their businesses, from product or service sales to accounting.
There are a variety of solopreneur business ideas available if you want to work for yourself. You might start a web-based business promoting affiliate products, developing and selling your own informational products, or obtaining revenue from advertising on your site. You might start a small insurance agency focusing on a niche market such as health or auto insurance. If you don't want to spend all of your time in an office, you could choose a service business, such as landscaping or cake decorating.Being a solopreneur gives you the benefit of determining your own income level, based on your talents and efforts. Depending on the type of business you choose, you can also adapt your work schedule to your other obligations and activities. Working for yourself also frees you from having a boss tell you what to do, and from having to deal with the challenges of hiring and managing employees.
Solopreneurs also face unique challenges. The work can be lonely, particularly if you spend most of your time in a home office. Handling all of the functions of your business can also be challenging. In some cases, you might end up working more hours than you would work in a traditional job. Also, although you can determine your own income, your week-to-week take-home pay can be unsteady.